Cincinnati @ San Francisco
Cincinnati +149 over San Francisco
Posted at 1:00 PM EST. Odds subject to change.
Pinnacle +149 BET365 +140 Sportsinteraction +136 888Sport +140
Cincinnati +149 over San Francisco
3:45 PM EST. There are some pitcher props in this game that really caught our attention and this wager was absolutely influenced by it. We'll preface it by letting you know that Logan Webb (RHP - SF) is coming off back-to-back rough starts versus the Braves, but we can take that with a grain of salt since it was the other-worldly Atlanta offense. Before those two, Webb pitched four quality starts, allowing seven earned runs over 28.2 innings with 21 strikeouts and two walks. He takes on a Reds' team who is striking out 28.6% of the time versus RHP over the past month and were nearly no-hit by Alex Cobb yesterday.
Meanwhile, Hunter Greene has looked downright brutal since returning from an injury. Greene had been on the injured list since June 19 due to right hip pain. He was transferred to the 60-day injured list on July 31, making him eligible to return to the active roster on Aug. 18. Since his return, Greene has made two starts and was torched in both of them to the tune of 15 hits allowed, 14 runs allowed while walking eight batters in 6.2 innings combined. His WHIP over those two starts was 3.45, which is not even possible but Greene made it possible.
Now that we've set up the starters, we turn to Starting Pitcher Props, which has Hunter Greene, u2½ -150 while Logan Webb is under 2½ -115. How can that be?
In other words, you can bet Hunter Greene to give up 2½-runs or more and take back a price.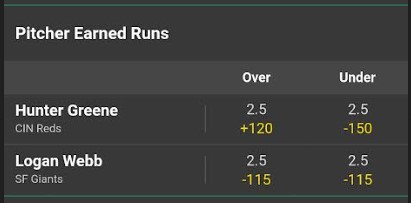 Greene's odds of allowing under 2½ runs are much higher than Logan Webb's odds of doing the same. It is for that reason that Cincinnati is a sneaky, live underdog here, unless of course the books made a massive error.

----------------------------------------------------------------------------
Our Pick
Cincinnati +149 (Risking 2 units - To Win: 2.98)