B.C./Ottawa u48 -110
bet365 operates pursuant to an agreement with iGaming Ontario.

u48 -110

u48 -110
Posted at 2:45 PM EST and are subject to change.
B.C./Ottawa u48 -110
7:30 PM EST. With the legalization of sports wagering in many states across the union and here at home in Ontario, Canada, we'd like to first and foremost thank any new readers for stopping by. We hope you are able to learn a thing or two that can help you in your journey to beat the sportsbooks. After all, that's why we are all here. We are on the same team and we all have the same goal.
Longtime readers of this space know that we do our best to find value in our wagers while also doing our best to educate our readers on many of the prudent sports wagering strategies we use and that we have learned over the years. It's with that in mind that every once and a while we will feature write-ups and analysis from those scumbag pick peddlers that would sell their grandmothers for a cigar. It is with that in mind we'll start with lesson one—never pay for picks.
Enter Ricky Tran, who not only annoyingly writes in the third person, but also provides us with an opportunity to dissect one of the biggest wagering sins that one can follow—trends.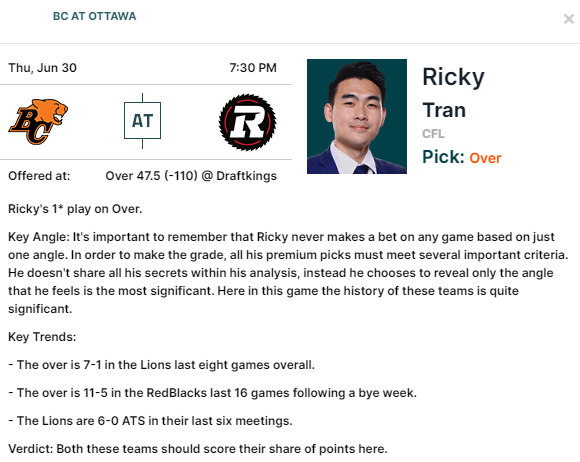 The use of trends in sports wagering might be the laziest of all the tools used by those that need your credit card number for a play so they can go get a $5 Footlong in a Las Vegas Sportsbook. Here, Ricky Tran offers up not one, not two, but three useless trends so let's take a look.
First, the over is 7-1 in the Lions last eight games overall. Sure, that sounds good on the surface, but the error here is that Ricky is buying at the worst possible time. The Lions over party started eight games ago and now he's going to jump in way too late. Furthermore, results influence the market and therefore today's over is inflated because B.C. has gone over so frequently as of late. This idiot is suggesting to buy high while we are using a proven method of selling high.
Let's look at Ricky Tran's next trend—the over is 11-5 in the Redblacks' last 16 games following a bye week. Now we don't know where Ricky Tran dug that gem up from, but this is what we are talking about when we discuss trends that span years. How far back do those 16 games take us? One has to figure it goes back to 2014 when this latest incarnation of Ottawa's CFL team created a nine-team league with an unbalanced schedule that included multiple byes. That said, who cares? A game from two, three four or you name the number of years has ZERO impact on the outcome of this game. To think otherwise is foolishness. To make a wager based on that information is absurd and is why Ricky needs your credit card number.
Finally, Ricky Tran leaves us with this gem, sure proof that this over bet is a surefire winner: The Lions are 6-0 against the spread in their last six meetings with the Redblacks. We have no idea how winning outright has anything to do with going over the total but it's another useless point made by a cockroach that is out of ideas.
These trends might look good on the surface, but underneath, it's all bullshit. In fact, the farther and longer back a trend goes, the better it may look in justifying a wager, but in reality, the more useless it really is. Trends are low-hanging fruit and their use is a clear sign of a clown show. There are 1000's of games played and over time trends will develop and inevitably some will stick out more than others. To all our new readers (and returning) pay no attention to any trend because they are meaningless fodder. Ricky Tran is a clown show.
The Lions have played two games and they scored 59 in Week 1 and 44 last week in Week 3. In their first outing, the Leos blew past the closing total of 48½ all by themselves and nearly did the same against the Argonauts last Saturday night. The Lions are 2-0, scoring points at will (103 in two games to just 13 given up by their defense) and now are facing the winless Redblacks.
Unlike Ricky, we are in the overreaction business and not the prediction business. That's another valuable lesson. For tonight, we trust that the Lions and their newfound firepower are getting far too much credit and hype in the market while the Redblacks' solid defensive play thus far (against the defending Grey Cup champs by the way) is receiving little to no attention. With B.C. putting up back-to-back crooked numbers, an opportunity has been presented to us. That is what we are always looking for. There is no question an overreaction to the Lions lighting up the scoreboard, which is our prompt to move in.
Once the game kicks off, everything that happens is out of our control. We'll go into this game knowing we did not make a prediction based on useless information, instead we reacted to the market's overreaction. We also know we are selling high and when you combine the two, you have a smart wager. That doesn't mean it will win but it's the right approach.
Our Pick
B.C./Ottawa u48 -110 (Risking 2.20 units - To Win: 2.00)
| Range | W | L | P | +/- (Units) |
| --- | --- | --- | --- | --- |
| Yesterday | 0 | 0 | 0.00 | 0.00 |
| Last 30 Days | 8 | 4 | 0.00 | +7.80 |
| Season to Date | 8 | 4 | 0.00 | +7.80 |