Montreal/Toronto u50 -110
bet365 operates pursuant to an agreement with iGaming Ontario.
Posted at 2:00 PM EST and are subject to change.
Montreal/Toronto u50 -110

7:30 PM EST. Not all sportsbooks are created equal. If you tried to parlay these two wagers at say, Pinnacle, they would tell you to frig right off. Why? These wagers are correlated. That means that if one bet figures to win, the other is more than likely to win as well. It's an edge for the player and that is just not a proposition that most sports books or casinos are interested in.
With that said, if you have an account at Bet 365, you CAN parlay these two wagers and even get a bonus on that wager. If you do not have a Bet 365 account, you can sign up easily through one of our banners or the logo at the top of this writeup. With the ability to parlay correlated wagers, we cannot recommend them enough.
Ok, with all that out of the way, we are still going to attack this game on two fronts. First, the under of the current posted total of 50. That number is inflated, as it opened at 46½. We understand that it looks weird to see CFL totals posted in the 40s, but one figures that oddsmakers are taking into account all of the pomp and circumstance around the push for more scoring and are actually posting totals higher than they probably should be. With so much offseason chatter and changing the rules to increase scoring, there is a perception in the market that there are going to be fireworks in this 2022 season. However, as we pointed out last week, the number of offensive plays per game in Week 1 was comparable to Week 1 under the old system last season. Similarly, these teams were thrust into the action with little time to prepare. In 2021 it was because of the pandemic and a shortened window to get the games in and this year it was a labor dispute that saw the training camps shut down and the team's two preseason games sandwiched into a seven-day period (May 27 to June 3). Last week the unders went 2-2 and if not for two games filled with turnovers, it could have been a clean sweep.
We'll leave the total side of things there for the moment, as this is a good time to talk about the market perception of the Argonauts. From what we've read and heard, in the lead-up to Toronto's first game of the season that it steamrolled someone in Week 1. How can a team have so much hype when it's not taken the field for one meaningful snap? If reputation alone is any indication of where market perception lies, the Argos might as well punch their tickets to the East Final. Scumbag pick seller Jesse Schule writes: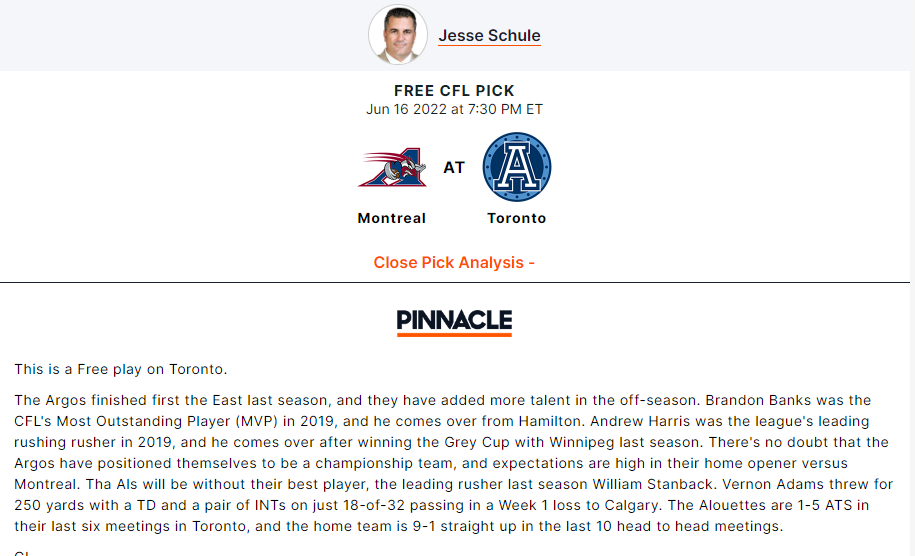 Not to be outdone, his buddy, fellow scumbag pick seller Sean Murphy chimed in with this: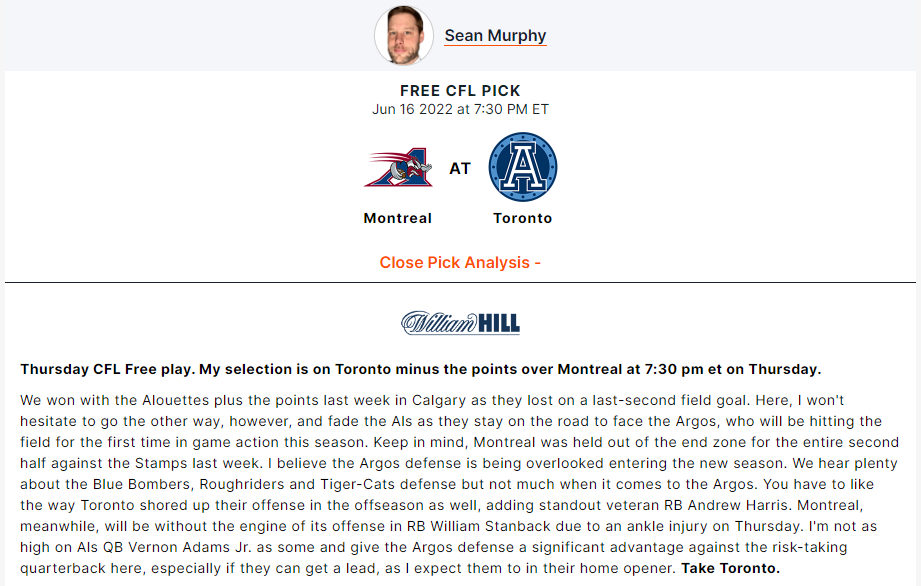 There is so much bullshit there to digest that we just do not have the appetite, however, we'll do our best to summarize. Toronto, good. Montreal, bad. Toronto has new players. Montreal is missing its best player. Did you get all that? In reality, the Als' played a hell of a game in Calgary last week and already have a full game's worth of reps in, while the Argos have been sitting on their thumbs reading their press clippings. If this were horse racing, the Als would be heading for turn one, while the Argos would just be getting out of the gate. We're going to trust Montreal will be a more cohesive unit here and is worthy of a wager.
We'll bet these games two games separately.
Our Pick
Montreal/Toronto u50 -110 (Risking 2.20 units - To Win: 2.00)