Colorado -110 over Dallas
Posted at 12:15 PM EST odds are subject to change.
Pinnacle -110 BET365 -110 Sportsinteraction -110 888Sport -110
Colorado -110 over Dallas
3:37 PM EST. Colorado has lost three times over their past 10 games and those three losses have come against New Jersey in a shootout (7-5) and Tampa twice. One of those losses to the Bolts was in OT. The Avs made some marginal adds at the deadline that included Lars Eller, Jack Johnson and Matt Nieto. Nonetheless, it is March and the cream rises to the top. Colorado might still be the best team in the West.
Dallas is in first place in the Central with a 33-16-13 record. They have won two in a row but truth be told, Dallas are the biggest imposters in the league. Those two wins in a row were against two depleted teams in Arizona and Chicago. Prior to that, Dallas lost to Vancouver, Chicago and Columbus among other squads. So, while the Avs were losing to Tampa and the Devils while beating everyone else, Dallas was losing to everyone and beating Chicago and Arizona.
The Blackhawks, Canadiens and Flyers all have five wins v top-10 teams. That's not the worst mark in the NHL. No, that distinction belongs to the biggest imposters, Dallas, who has four wins in 18 games versus top competition. Dallas has 11 wins in 31 games versus top-16 competition.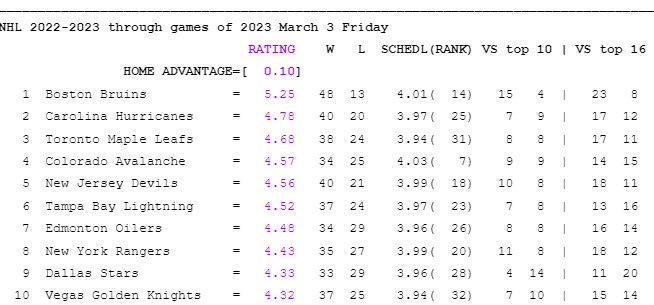 If you think the Stars are an elite team or even close to it, you would be wrong. The Stars are lucky and like Chicago or Philly, they're not very good except when they play all the dregs. The Stars are the class of the teams that don't deserve to be going to the playoffs. They win games 2-1 or 3-2 and need outstanding goaltending to win because it is a rare day when they outplay anyone. By the way, the Stars aren't even that good in OT with 13 losses, which is more proof that either their shooters aren't very good or their goaltending is more lucky than good or both. After playing Chicago (minus everyone traded) and Arizona, Dallas is in for a reality check here and it's not likely to be pretty. They barely beat Chicago (two empty netters).
-------------------------------------------------------------------------------------------
Our Pick
Colorado -110 (Risking 2.20 units - To Win: 2.00)