N.Y. Giants +10 -105 over Dallas
Posted at 11:30 AM EST odds are subject to change.
Pinnacle +10 -105 BET365 +10 -110 SportsInteraction +10 -110 888Sport +10 -110
N.Y. Giants +10 -105 over Dallas
4:30 PM EST. Most of you saw what we did last Sunday afternoon. That was CBS cutting away from the Cowboys running wild like Hulkamania in 1987 after three quarters of play in Minnesota in the biggest game on the Sunday slate. It was 37-3 for the Cowboys at that point, who were a -1½-point favorite at close. It makes a pretty impactful statement when a "game of the week" loses its very large audience in favor of a more competitive matchup.
We're not going to bash the Cowboys, as we backed them last week in Minnesota and wrote about how they are an elite team, which the analytics back up. Nothing has changed in that department and in fact, the Cowboys are now the #1 team by weighted DVOA over at Football Outsiders. Being "weighted" means that early season games mean less as the season goes on, as they should be. Again, the question here isn't whether or not the Cowboys are a great team in their current form. The question is are the 'Boys spotting inflated points here on Turkey Day?
The underlying numbers suggest the Giants and Vikings are comparable. Football Outsiders actually ranks the Giants five spots higher by total team DVOA. The Cowboys were -1½ last week in Minnesota and now at the time of this posting Dallas a 9-point favorite Does a change in venue justify that swing in price?
As with the Vikings and Lions, this just isn't a regular home game for the Cowboys. When you are the home team on Thanksgiving, you have to deal with dozens of outside variables that the away team does not. The Giants don't have to worry about putting up the in-laws, for them, this is all business. We love seeing the players getting out in their communities and making a difference, but we also acknowledge it's a big distraction.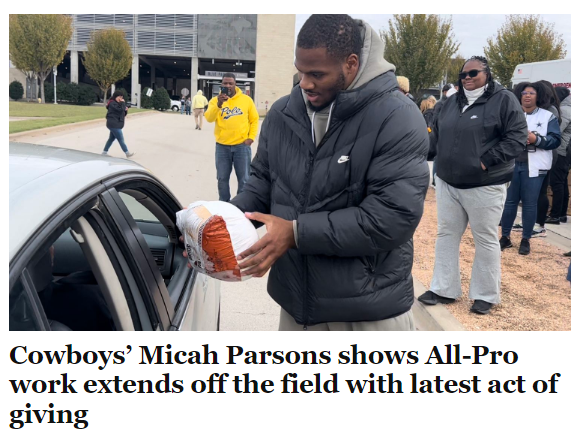 We discussed last week that the market was all over the Cowboys in their loss to the Packers and would "zig-zag" over to the Vikings last Sunday. That's what happened. Now the table is set for another market "zig-zag" back onto Dallas today. We are also mindful of the Giants' recent woes, as we backed them last Sunday as well in a 31-18 home loss to the Lions as a 3-point favorite. This line today represents a near double-digit swing. No one is debating if the G-Men are taking a step up in competition here, but nobody is asking the Giants to win either. Taking back the points is the prudent play here.
Our Pick
N.Y. Giants +10 -105 (Risking 2.10 units - To Win: 2.00)