Philadelphia @ Indianapolis
Philadelphia -6½ -109 over Indianapolis
Posted at 11:30 AM EST odds are subject to change.
Pinnacle -6½ -109 BET365 -6½ -110 SportsInteraction -6½ -110 888Sport -6½ -110
Philadelphia -6½ over Indianapolis
1:00 PM EST. And down goes Frazier. The 8-1 Eagles come off their first loss of the season and head to Indy to face the 4-5-1 Colts who just beat the Raiders in a surprising manner considering they changed starting quarterbacks while they were coming out of the tunnel onto the field. It was also ESPN analyst-turned-head coach Jeff Saturday's debut.
Just in case you're not aware, betting lines are posted at many joints for the next two weeks. In other words, if you want to bet next week's games before this week's results, go right ahead.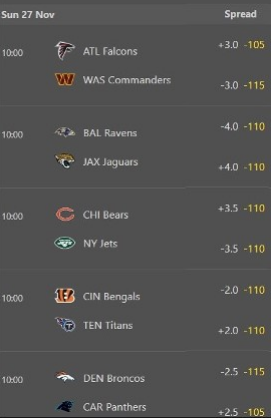 We mention this because prior to last week's results, the Eagles were a 10½-point favorite over the Colts. What happened next was the Eagles lost to Washington on Monday night as a 10½-point favorite while the Colts beat the Raiders in Las Vegas. The overreaction to those two results are clearly on display this week. Therefore, this figures to be a correction game, as Philadelphia laid an egg while the Colts did not.
Football is a highly emotional game. It is near impossible for any team to maintain high intensity for an entire season without a blip. The Eagles lost to the Commanders in that fateful sort of way, where the ball never bounces right and the gravity of winning every game finally becomes too great. And now we can wave at the old guys from the '72 Dolphins and get back to business. The Eagles now go from being a 10½-point favorite in this game prior to last week's results to the number you see here and it's a bargain.
You also have the zig-zaggers switching gears at precisely the wrong time. Vegas once again reported a massive liability on the Raiders beating Indy last week. Indy went gate to wire and was never in jeopardy of not covering. The market likes the coaching change and everything they saw with the Colts while those that spotted big points with Philadelphia last week on the road in prime time are surely not interested in spotting big road points with the same team again.
Finally, you may read or hear that the Eagles have a pretty big game on deck next Sunday night v Green Bay. Not only will it be a chance for Philadelphia to redeem themselves in prime time again after last week's debacle but it's a big deal to be playing the Pack on Sunday Night Football, especially for those that have been "Waiting All Day For Sunday Night (STFU). Had Philadelphia beaten Washington, we'd agree that this could be a difficult "sandwich spot" but they didn't. They lost and they were embarrassed. We highly doubt that the powerful Eagles will be flat again or that they'll lose to a stillborn team without a QB that is flying high after a nothing victory over a nothing team. Jeff Saturday and his Colts were celebrating like they won a playoff game against Buffalo. Books had it right when they made Philly a 10½-point fav before last week's results.

Our Pick
Philadelphia -6½ -109 (Risking 2.18 units - To Win: 2.00)