Dallas -1½ -106 over Minnesota
Posted at 11:30 AM EST odds are subject to change.
Pinnacle -1½ -106 BET365 -1½ -110 SportsInteraction -1½ -109 888Sport -1½ -110
Dallas -1½ over Minnesota
4:25 PM EST. There is a perception in the market that the Vikings are getting no respect. However, by saying and writing such things, Minnesota is getting its due. The Vikings are coming off a wild 33-30 overtime win in Buffalo, which once again goes to show that in a market that values winning over all else, when you win, you get respect. The Vikings are 8-1, which has the pundits starting to believe. You know what that means.
Are the Vikes for real? The short answer is "no". The long answer—"fuck no". It does not take long to find fault with the Vikings' résumé. First, they've beaten just two teams with a winning record, Miami and Buffalo. The Dolphins were without Tua Tagovailoa, by the way. The rest of the Vikes' opponents have a combined record of 22-37. If you're wondering how impactful that win over Buffalo was to the Vikings rankings in the analytics, it did very little to improve their standing. Last week, Minny was 18th in total team DVOA. This week, they are 17. Teams with half the wins (or less) than the Vikes that rank ahead of them include Jacksonville, Green Bay, and Cleveland. Nobody is shouting about those teams not getting any respect. See how wins can distort one's perception. The Vikings estimated win total is just 4½. This team is living a charmed life and now that they are finally getting the respect of the market, it's time to fade them.
Dallas is the perfect example to contrast what we are talking about because it lost its wild game up in Green Bay. That game was seen by most of the continent as it was the only 4:25 PM EST kickoff. Just take a look at the coverage map for some perspective.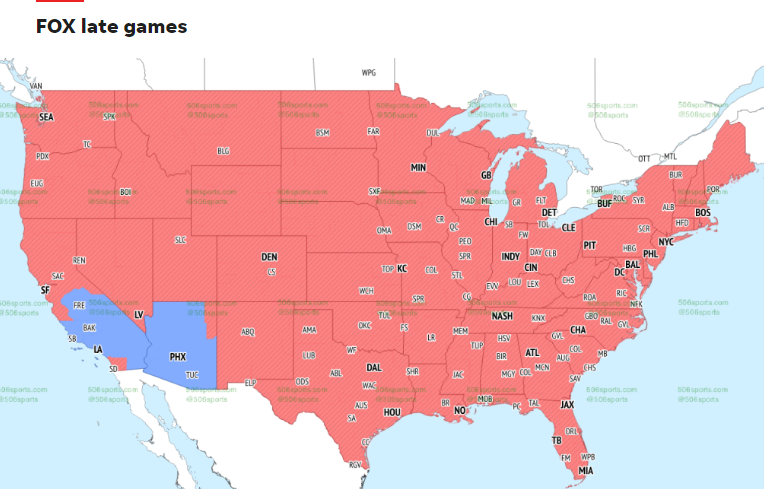 Everything in red is where the Cowboys were on TV. Unless you were in Arizona or Southern California, you watched Green Bay and Dallas. More and more we are starting to put those late afternoon feature games on the same level as a Thursday, Sunday or Monday night game. They are seen by many eyes and therefore are overexposed compared to other contests. That means their results have great influence and we must take that into consideration.
Vegas reported a seismic liability on the Cowboys but they could not hang on to a 14-point lead in the fourth quarter. Vegas was happy but the betting public was not. That's going to leave a sour taste in the mouth, no doubt, but it also presents us with a tremendous opportunity to get the Cowboys at a significant discount.
Now, do you really think the oddsmakers made an error when they made Dallas favored? The efficient market believes they did, as Dallas opened as high as -2 or even -2½ at some joints. Here we have an 8-1 Minnesota team, at home no less, that just defeated Buffalo, in Buffalo no less, against a Dallas team that just lost to a Green Bay team that hasn't been able to get out of its own way for weeks. How can a 6-3 team be favored on the road against an 8-1 team that just beat the #1 ranked team in the NFL (before last week)? We'll tell you how. Unlike the Vikes' middling analytics, the Cowboys are elite, ranking fourth in team DVOA but all the market sees is wins and losses.
Minnesota is also the flavor of the week no matter where you get your NFL news from. The narrative is that it's time to take the Vikings seriously as Super Bowl contenders. We're hearing and reading the same things as you.
This is from a popular website that covers NFL exclusively:
The Vikings are balanced on offense and defense. They run the ball well, with Dalvin Cook. Newcomer T.J. Hockenson (seven catches, 45 yards) has added YAC opportunities in the flat and over the middle that Irv Smith Jr. did not really provide. Danielle Hunter and Za'Darius Smith are a formidable pair of bookend edge rushers. Patrick Peterson (two interceptions on Sunday) is enjoying a late-career renaissance. The Vikings play sound field-position football and generally avoid penalties; as a team loaded with veterans, there's a good chance that they will continue to succeed in those areas. Re-read the names listed above. Add Adam Thielen, Christian Darrisaw, Brian O'Neill, Jordan Hicks, and Harrison Smith to the list. What NFC team has better talent? The Eagles, sure. Maybe the Cowboys. Maybe the Buccaneers. Possibly the 49ers. That's it, unless you count Aaron Donald and Cooper Kupp four times each. The Vikings are a veteran team that's not an over-the-hill team. That gives them an edge over the up-and-comers playing at the ceiling of their capabilities (Giants, Seahawks) and the League of Extraordinary Gentlemen (Buccaneers, Packers, Rams) trying to gather themselves together after falling down a flight of stairs. The Vikings proved they were good enough to beat anyone on Sunday. Like it or not, we cannot keep pretending that they don't really matter, or that they aren't even really there.
It all sounds nice and you're going to get it pounded into your head about what a threat the Vikings are. This is another great example of the media influencing the market. When you watch NFL Game Day on Sunday, guaranteed it'll open with this marquee game being the main course.
We're not here to predict the game. We're never here to predict games because nobody can unless you're capable of predicting turnovers, penalties, blocked punts, great catches, missed catches, missed tackles and about a dozen other things with no predictive value. Point is, if Minny gets caught reading their press clippings, it's going to be a long day at the office. The line says so.
Our Pick
Dallas -1½ -106 (Risking 2.12 units - To Win: 2.00)