Early leans & analysis Wk 11
Early leans & analysis
Posted Friday, November 18 at 1:30 PM EST. Odds are subject to change.
Pinnacle BET365 SportsInteraction 888Sport

NFL Week 11
What you see below is our early leans. Many of the selections below will stay the same and some will be moved into official plays with wagers on Sunday. However, there is also the possibility that we see, read or get a sense that something is not right with one of our selections and change our pick. There are several different criteria we use to grade a game and make it an official play and a lot of things can happen or change between Friday and Sunday. We're intent on providing our We'll have all write-ups (except Monday Night Football) posted on Friday but our actual wagers won't be posted until Sunday morning between 10 AM and 12:00 PM EST
Sunday, November 18
NFL Week 11
Detroit @ N.Y. Giants -3 -110
1:00 PM EST. As if beating the Packers in Week 9 wasn't enough, the Lions took down the Bears in Chicago last week in a 31-30 shootout. It was an exhilarating win for Detroit, who rallied from 13 down to steal the victory and it also snapped a 13-game road losing streak. Most importantly, Vegas reported that they badly needed the Lions to cover against Green Bay two weeks ago and even more so last week in Chicago. The point is a high majority of wagers were against Detroit for two weeks in a row and now that same majority will be very tempted to switch gears (zig-zag) and jump on the Lions. If you wager on Detroit this week, you may cash but you would also be committing two cardinal sins of wagering. First, is the aforementioned zig-zag and second, you would be buying Detroit when their stock is at its highest point of the season.
If you bet the Giants and won last week, we don't have to tell you how extremely lucky and agonizing it was to watch that game. The Giants covered because the Texans turned the ball over three times in the red zone and twice inside the 10-yard line. The Texans had more first downs, more total yards and outgained the Giants through the air by more than 100 yards. Thus, not only do you have bettors that wagered on the Giants wanting no part of that experience again, those that bet Houston (like us), absolutely know how lucky the Giants were and will want to bet against them again. It's not just last week with the Giants either. The week prior, they lost by 14 to Seattle, the week prior, they had another lucky victory v Jacksonville. The list goes on all season of how the Giants pulled a horseshoe out of their ass and won. You may also hear about how the Giants have the Cowboys on deck next week on Thanksgiving Thursday, a tradition in Dallas for decades.
Trust us, we don't want to spot -3 points with the Giants either but we'll reiterate that we're not in the prediction business. Furthermore, Detroit playing on Thanksgiving Thursday in the early time slot is also a Thanksgiving tradition that goes back to 1934. Detroit will host Buffalo, which is not only a massive game but the Lions haven't won on Thanksgiving for five years so that's another demon they'll try and slay and it's also something they'll have to prepare for. Finally, this game opened with the Giants being a -3½-point favorite. By late Monday, the efficient market already got a hold of the "hook" and hammered it down to -3. When the efficient market takes a stance, it's a big warning sign that it is anything but efficient and it is for that reason among all the others mentioned above that we'll strongly recommend Big Blue. Recommendation: NY Giants -3
Dallas -1 @ Minnesota
4:25 PM EST. There is a perception in the market that the Vikings are getting no respect. However, by saying and writing such things, Minnesota is getting its due. The Vikings are coming off a wild 33-30 overtime win in Buffalo, which once again goes to show that in a market that values winning over all else, when you win, you get respect. The Vikings are 8-1, which has the pundits starting to believe. You know what that means.
Are the Vikes for real? The short answer is "no". The long answer—"fuck no". It does not take long to find fault with the Vikings' résumé. First, they've beaten just two teams with a winning record, Miami and Buffalo. The Dolphins were without Tua Tagovailoa, by the way. The rest of the Vikes' opponents have a combined record of 22-37. If you're wondering how impactful that win over Buffalo was to the Vikings rankings in the analytics, it did very little to improve their standing. Last week, Minny was 18th in total team DVOA. This week, they are 17. Teams with half the wins (or less) than the Vikes that rank ahead of them include Jacksonville, Green Bay, and Cleveland. Nobody is shouting about those teams not getting any respect. See how wins can distort one's perception. The Vikings estimated win total is just 4½. This team is living a charmed life and now that they are finally getting the respect of the market, it's time to fade them.
Dallas is the perfect example to contrast what we are talking about because it lost its wild game up in Green Bay. That game was seen by most of the continent as it was the only 4:25 PM EST kickoff. Just take a look at the coverage map for some perspective.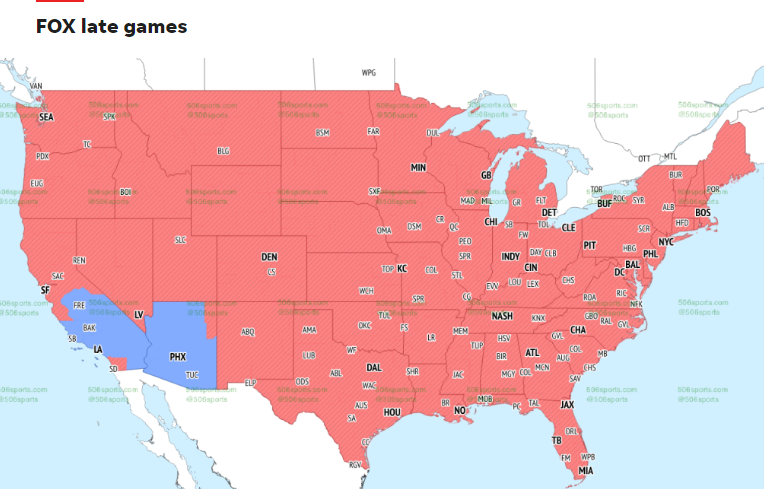 Everything in red is where the Cowboys were on TV. Unless you were in Arizona or Southern California, you watched Green Bay and Dallas. More and more we are starting to put those late afternoon feature games on the same level as a Thursday, Sunday or Monday night game. They are seen by many eyes and therefore are overexposed compared to other contests. That means their results have great influence and we must take that into consideration.
Vegas reported a seismic liability on the Cowboys but they could not hang on to a 14-point lead in the fourth quarter. Vegas was happy but the betting public was not. That's going to leave a sour taste in the mouth, no doubt, but it also presents us with a tremendous opportunity to get the Cowboys at a significant discount.
Now, do you really think the oddsmakers made an error when they made Dallas favored? The efficient market believes they did, as Dallas opened as high as -2 or even -2½ at some joints. Here we have an 8-1 Minnesota team, at home no less, that just defeated Buffalo, in Buffalo no less, against a Dallas team that just lost to a Green Bay team that hasn't been able to get out of its own way for weeks. How can a 6-3 team be favored on the road against an 8-1 team that just beat the #1 ranked team in the NFL (before last week)? We'll tell you how. Unlike the Vikes' middling analytics, the Cowboys are elite, ranking fourth in team DVOA but all the market sees is wins and losses.
Minnesota is also the flavor of the week no matter where you get your NFL news from. The narrative is that it's time to take the Vikings seriously as Super Bowl contenders. We're hearing and reading the same things as you.
This is from a popular website that covers NFL exclusively:
The Vikings are balanced on offense and defense. They run the ball well, with Dalvin Cook. Newcomer T.J. Hockenson (seven catches, 45 yards) has added YAC opportunities in the flat and over the middle that Irv Smith Jr. did not really provide. Danielle Hunter and Za'Darius Smith are a formidable pair of bookend edge rushers. Patrick Peterson (two interceptions on Sunday) is enjoying a late-career renaissance. The Vikings play sound field-position football and generally avoid penalties; as a team loaded with veterans, there's a good chance that they will continue to succeed in those areas. Re-read the names listed above. Add Adam Thielen, Christian Darrisaw, Brian O'Neill, Jordan Hicks, and Harrison Smith to the list. What NFC team has better talent? The Eagles, sure. Maybe the Cowboys. Maybe the Buccaneers. Possibly the 49ers. That's it, unless you count Aaron Donald and Cooper Kupp four times each. The Vikings are a veteran team that's not an over-the-hill team. That gives them an edge over the up-and-comers playing at the ceiling of their capabilities (Giants, Seahawks) and the League of Extraordinary Gentlemen (Buccaneers, Packers, Rams) trying to gather themselves together after falling down a flight of stairs. The Vikings proved they were good enough to beat anyone on Sunday. Like it or not, we cannot keep pretending that they don't really matter, or that they aren't even really there.
It all sounds nice and you're going to get it pounded into your head about what a threat the Vikings are. This is another great example of the media influencing the market. When you watch NFL Game Day on Sunday, guaranteed it'll open with this marquee game being the main course.
We're not here to predict the game. We're never here to predict games because nobody can unless you're capable of predicting turnovers, penalties, blocked punts, great catches, missed catches, missed tackles and about a dozen other things with no predictive value. Point is, if Minny gets caught reading their press clippings, it's going to be a long day at the office. The line says so: Recommendation: Dallas -1
Chicago @ Atlanta -3
1:00 PM EST. The Bears, and more specifically, Justin Fields has been getting a ton of good press lately. Last week, ESPN was ready to crown Fields as a future Super Bowl champion. It's not a matter of if, but when. Fields lived up to the hype in Week 10 versus the Lions, where he put up numbers like he was Bo Jackson in Tecmo Bowl. Fields ran for 147 yards and two touchdowns, while adding another 167 yards in the air and two more majors. This season, Fields has rushed for 555 yards in his last five starts, which is the most by a QB in history during a five game stretch. Fields is the sixth leading rusher league wide, which puts him ahead of Aaron Jones in Green Bay and Dalvin Cook in Minnesota.
The Bears may have lost a tight 31-30 decision to the Lions on Sunday, but that is not the story. The story is about Fields and his meteoric rise. He's a dual threat that is turning into a superstar in front of our eyes. He's on the fantasy radar, which is not insignificant. In fact, he's on everyone's radar now. You're probably wondering when the "yeah, but," is coming, so here it is. As impressive as Fields has been the last month or so, his team is just 1-4 in its last five games. Last Sunday, the Bears blew a 14-point lead. In the fourth quarter, when Chicago needed its offense to perform, it went limp. In five fourth quarter possessions, the Bears went—punt, pick-six, TD, punt, turnover on downs. On that last possession, the Bears needed about 50 yards to put themselves in place to kick a game winning field goal. Justin Fields' day would end with him flat on his back, looking at the clouds. To be fair, it wasn't all Fields' fault the game went sour, but if he's going to take the glory, he's got to take the blame, too. Dude was just 2-of-6 for 13 yards in the final frame. When the game was on the line, and they needed him the most, Fields was nowhere to be found.
The Falcons were the hottest team at the pay windows through the first six weeks, as they covered every one of their first six games but that was then and this is now. Those looking to get in on the Falcons' payday quickly discovered that they missed the boat. The Dirty Birds have now failed to cover in four straight games. Once again, the market has taken notice. In summary, Chicago lost last week but their stock didn't drop one iota. In fact, it probably rose to an even higher level because Justin Fields is one of the flavors of the week. Atlanta's stock is sinking faster than Bitcoin. That sets up this quintessential buy-low, sell-high opportunity where Atlanta being favored will be questioned by the man on the street. Recommendation: Atlanta -3
Philadelphia -7 @ Indianapolis
1:00 PM EST. And down goes Frazier. The 8-1 Eagles come off their first loss of the season and head to Indy to face the 4-5-1 Colts who just beat the Raiders in a surprising manner considering they changed starting quarterbacks while they were coming out of the tunnel onto the field. It was also ESPN analyst-turned-head coach Jeff Saturday's debut.
Just in case you're not aware, betting lines are posted at many joints for the next two weeks. In other words, if you want to bet next week's games before this week's results, go right ahead.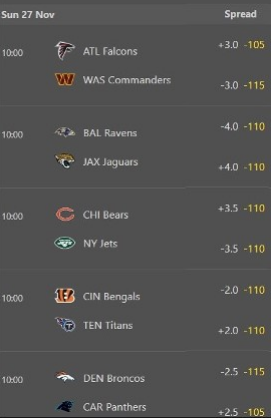 We mention this because prior to last week's results, the Eagles were a 10½-point favorite over the Colts. What happened next was the Eagles lost to Washington on Monday night as a 10½-point favorite while the Colts beat the Raiders in Las Vegas. The overreaction to those two results are clearly on display this week. Therefore, this figures to be a correction game, as Philadelphia laid an egg while the Colts did not.
Football is a highly emotional game. It is near impossible for any team to maintain high intensity for an entire season without a blip. The Eagles lost to the Commanders in that fateful sort of way, where the ball never bounces right and the gravity of winning every game finally becomes too great. And now we can wave at the old guys from the '72 Dolphins and get back to business. The Eagles now go from being a 10½-point favorite in this game prior to last week's results to the number you see here and it's a bargain.
You also have the zig-zaggers switching gears at precisely the wrong time. Vegas once again reported a massive liability on the Raiders beating Indy last week. Indy went gate to wire and was never in jeopardy of not covering. The market likes the coaching change and everything they saw with the Colts while those that spotted big points with Philadelphia last week on the road in prime time are surely not interested in spotting big road points with the same team again.
Finally, you may read or hear that the Eagles have a pretty big game on deck next Sunday night v Green Bay. Not only will it be a chance for Philadelphia to redeem themselves in prime time again after last week's debacle but it's a big deal to be playing the Pack on Sunday Night Football, especially for those that have been "Waiting All Day For Sunday Night (STFU). Had Philadelphia beaten Washington, we'd agree that this could be a difficult "sandwich spot" but they didn't. They lost and they were embarrassed. We highly doubt that the powerful Eagles will be flat again or that they'll lose to a stillborn team without a QB that is flying high after a nothing victory over a nothing team. Jeff Saturday and his Colts were celebrating like they won a playoff game against Buffalo. Books had it right when they made Philly a 10½-point fav before last week's results. Recommendation: Philadelphia -7
Carolina @ Baltimore -13
1:00 PM EST. The Ravens have developed a reputation this season as a team that can't finish games. Baltimore notably blew big leads to Miami, Buffalo, Cincinnati, and the Giants. In their last six, the Ravens have covered just twice, once as a -1-point favorite over New Orleans and the other as a two point pooch to Tampa Bay. Baltimore is just 1-4-1 against the spread when favoried from 3-to-6½-points. That mark of 6½-points is the largest margin the oddsmakers have asked Baltimore to cover this season. How can the books ask them to now spot a price double that?
We are not the only ones who initially thought this price was a little spendy, but after diving into this game. It starts to make much more sense. The Ravens, while not regarded as elite at the moment, are. Over at Football Outsiders, Baltimore is the third ranked squad, sitting just behind Buffalo and Philadelphia. What would the Bills be this week at home to Carolina? What about Philly? By contrast, the Panthers are ranked 30th. That position flatters the Cats as well, as their 29th ranked special teams are propping up the 31st ranked offense and a defense that is dead last in the league at 32nd. The return of Baker Mayfield is the last notable point that needs to be addressed on the Panthers' side, but do not buy into any talking head that suggests Carolina is better with back than it was with Walker.
This season, teams favored by double digits have not fared well. It was a much different story last season, where the big favorites seemingly rolled week in and week out. When the Eagles fell outright as an 11-point favorite on Monday Night Football to Washington, they became the third team this season to lose outright when giving double digits to the opposition. The other two wins were by the Jets v Buffalo in Week 9 and the Panthers against the Buccaneers in Week 7. Favorites of 10 or more are now just 6-6 against the spread this season. Those results are not lost on this market, as the Commanders were heavily bet on MNF.
Prime time games have a large audience and therefore many wagers. The last time the Panthers took the field it was to kick off Week 10 on Thursday Night Football. Carolina was a popular fade in the market, as it had just come off a blowout loss in Cincinnati in Week 9. The Panthers would knock off the Falcons with ease, winning that game, 25-15. That prime time victory sets up the opportunity for a "zig-zag" in the market. That so many just cashed tickets taking back double digits is going to further increase the curb appeal of these points. Don't get caught gawking and keep on walking. Recommendation: Baltimore -13
Washington @ Houston +3
1:00 PM EST. What a difference a game makes. Washington entered Philadelphia on Monday night as an 11-point underdog. The Commanders fumbled on their opening possession, handing the Eagles a free touchdown to open the game and it looked like blowout city was about to take place. But then Washington scored, then scored again, and kept scoring en route to a shocking 32-21 win. With the Seahawks, Cowboys and Falcons all losing last week, Washington suddenly finds itself very much in the playoff picture and Chase Young will be rejoining the team this week. He's not the only one that could be returning for the Football Team in the near future. Carson Wentz is scheduled to return from the IR, but Ron Rivera has not given any indication as to what his game plan is with Wentz and Taylor Heinicke but that's a story for another time.
The story, of course, is that the Commanders just took down the Eagles as the last unbeaten team to fall and they did so in Philadelphia's stadium, no less. The 1-7-1 Texans are on a four-game losing streak and have yet to win a home game. Furthermore, Washington has won four of five with only its only loss over that span coming against the 8-1 Vikings in a game the Redskins should have won. Washington was up 10 in the fourth quarter. Just to recap, Washington just played the 8-1 Vikes and 8-1 Eagles, went 1-1 but should've went 2-0. Meanwhile, Houston has the worst record in the NFL and are 9-32 over its last 41 games. There's also some QB rumblings on the Texans side with Davis Mills showing a lot of regression in recent weeks. The Stanford product showed some flashes during his rookie year to warrant the starting job, but nine interceptions in the Texans' last seven games has Lovie Smith looking around his quarterback room.
If we're predicting games like the man on the street or the NFL panels on pre-game shows, we're taking Washington emphatically. How could you not? The man on the street is going to walk into a sportsbook in the U.S or U.K. and 1 out of 400 is going to bet the Texans. Seriously, what are we going to do? Break down X's and O's and come up with the Texans? That's an exercise in futility. The NFL Game Day panels will break down the X's and O's and give you Washington. They have a winning record, oh, how about NEVER! We're not going to try and sell you on the Texans because it's your money and you can do whatever you want. We will, however, warn you that the oddsmakers were not sleeping on this game when they posted the Commanders as a small favorite. They didn't post -3½ but could've and not swayed a single bet. One of the crucial aspects of handicapping football games is not to get caught up in X's and O's and to be able to recognize a price that is begging for you to step in or that has a foul odor to it. This is one of two games this week that has all those elements. Oddsmakers are gambling big time here that the Commanders will be out of gas mentally after playing four straight emotional games that came down to the final seconds in three before they took down the last unbeaten team in prime time. Washington beat Green Bay by two, Indianapolis by one and lost to the Vikings by three before last week's upset. Line is screaming out that Washington is going down this week and because we're not in the prediction business, we'll listen to those screams. Recommendation: Houston
N.Y. Jets +3 @ New England
1:00 PM EST. Just a couple of weeks after Bill Belichick reminded everybody that he never loses to the Jets, they're at it again this week. By the way, BB was right, as New England once again defeated the J-Men, in New York by a final score of 22-17. An artistic masterpiece it was not but that does not matter. The only thing that matters to the media and market is that big fat W. The Patriots would follow up that victory with another one, this time as a 5-point choice, in Foxborough, over the Colts. It was a rocking chair win in which the Colts could not move five yards while the Patriots barely broke a sweat in a 26-3 blowout. It felt like 63-3 if you bet the Colts like we did. It was the Pats fourth win in their last five games and it was also the Pats fifth cover in their last six games. The kicker here is that it was Belichick's 13th straight victory over the Jets, a team he once coached for a few hours before taking the Foxborough assignment 22 years ago. The media will be hammering those 13 straight wins into your head too. The Bailey Zappe/Mac Jones QB controversy is now old news with Jones now firmly back in control of the offense.
What the media won't tell you is that New England was beyond lucky to beat the Jets in New York on the 30th of October. That game was marked by Zach Wilson passing for 355 yards but three interceptions did the Jets in. Plus, the Jets returned an interception for a score late in the game but the refs would have no part of that, thus, it was called back on a penalty. We refer to in-game variance often and that last game saw the Patriots in-game variance working in their favor to a seismic degree. The Jets were clearly the better team, they probably should have won by three TD's but not one single media outlet will be discussing that. The only thing they'll be discussing is another New England victory over the Jets. They'll also be discussing Zach Wilson's seven picks over two games v the Patriots, which included four picks the first time he faced a Belichick defense last season, and then mercifully getting knocked out of a game the Jets would lose by a 54-13 count the last time they trekked to Foxborough in October of last season.
So let's do a quick recap of what we have here. Bill Belichick vs the Jets again. BB has beaten New York 13 straight. The last time the Jets won in New England was 11 years ago. The last time they played in New England, Pats won 54-13. Zach Wilson has thrown 7 picks v NE in the past two games. The Patriots are coming off a 26-3 win and have covered five of six. Who the f**k do you think the media will be selling here? Who the f**k do you think the man on the street is going to be betting? If you trust that the sportsbooks are giving away money here, then get in line and bet the Patriots. If, however, you're like us and question why this line is so low, then you'll wait and bet the Jets. Recommendation: NY. Jets +3
Las Vegas +3 @ Denver
4:05 PM EST. Broncos' coach Nathaniel Hackett may have summed this game up best, "Somebody has to win". Of course, word for word, that statement means little, but if you have been following the basement of the AFC West this season, his point is easily taken. The Raiders and the Broncos both had high expectations this season and both stink to Mile High heaven.
Nate Hackett better add Joshua Thomas McDaniels of Clark County, NV, (more on that in a minute) to his Christmas list, because the latter is taking all the heat off the former. Nobody is really talking about Hackett's failed season in Denver in light of the disaster in Sin City. If the Raiders thought they were going to be able to get rid of McDaniels, a report that they are "cash poor" and can't afford to fire him suggests that's not going to happen. Hopefully McDaniels locked in a good interest rate.
It's been reported that McDaniels will not only coach the rest of this season, but at least next season, too. When asked about his 2-7 head coach, owner Mark Davis backed up his own decision making, "As far as Josh goes, I have no issues. I'm getting to know him a lot better. When you sign someone to a contract, don't you expect him to fulfill the contract? I like Josh. I think he's doing a fantastic job. That's why I hired him. We did an exhaustive search and found the person we believe is going to bring the Raiders to greatness".
It's going to be easy to crap on McDaniels and the Raiders organization in light of their home loss to the lowly Colts last week, but it was just another game that this team lost by a converted touchdown or less. On the season, it was the sixth such loss for Las Vegas. The Raiders real only gawdawful showing was their 24-0 shutout in New Orleans in Week 8. Las Vegas's other six losses came by 5 (Colts), 7 (Jaguars), 1 (Chiefs), 2 (Titans), 6 (Cardinals), and 5 (Chargers) points. Had Vegas hung onto a lead and got a bounce or two, we could be talking about a team that could have five or six more wins on the board. 8-1, 7-2 or 6-3 would look a lot better right now and nobody would be talking about McDaniels latest head coaching failure. There's a fine line between winning and losing and the Raiders have come up on the wrong side of that line more often than they should have.
The Broncos have lost some close games this season as well, but unlike the Raiders, who can actually put up points and move the ball some, Denver can't move the ball five yards. The Broncs have the 31st ranked offense according to Football Outsiders. For comparison's sake, the Raiders are 18th. Not elite, but not in the toilet. However, the pundits have classified both of these teams as offensively inept. If you are curious about public perception, we encourage you to find any "expert" picks you'd like. For a taste here is the panel from ESPN:

If that wasn't enough, here's MSN:
When you see the "experts" all line up for one side, it's a big red flag. For some perspective, all but one "expert" at ESPN had the Packers on Thursday night, as did 3/4 on MSN. You know what happened in that one.

Measuring the week to week value of these teams is not easy, but in this game, it's clear. The Raiders were a 5-point favorite last week at home to the Colts, while the Broncos were a 2½-point pooch in Tennessee. That's an 8-point swing on the Vegas side and nearly a touchdown swing on Denver. That just doesn't add up, which points to the Raiders being the value play here. Recommendation: Las Vegas +3
Cleveland v Buffalo -7½ - Ford Field - Detroit, MI
1:00 PM EST The big story in advance of this game has nothing to do with football and everything to do with Mother Nature, who is set to pound the Buffalo area with a paralyzing snowstorm that has already begun. If you watched Western Michigan play Central Michigan on Wednesday night, you saw what the snow can do to wreak havoc. We are less than an hour from Orchard Park and can tell you first hand that is going to get ugly. So ugly in fact, that the league is taking no chances and this game has been moved to the warm, comfy confines of Ford Field in Detroit.
The Bills may have preferred the discussion stayed about the weather, as they have now dropped two straight games. To add salt to that wound, star quarterback Josh Allen now leads the league in interceptions after a rough two pick performance in that wild OT loss to the Vikings last Sunday. Buffalo is a popular and talented team, but this is a fickle fucking market. Buffalo hasn't covered a game in its last three outings, which includes an outright loss to the Jets as an 11-point favorite just two Sundays ago. When the well dries up, it's time for us to go to that proverbial well.
We're read and heard about how unfair this relocation is to the Bills and we could not disagree more. By removing this game from Orchard Park, Buffalo now no longer has to worry about the weather and all the bullshit that comes with it. Instead, they are getting the hell out of town, which can't be a bad thing. Moreover, the Bills may be served well here as they are set to play in Detroit on Thursday for Thanksgiving. Much of the B.S. that surrounds travel on a short holiday week is now avoided. The Bills can land in Detroit City this weekend, and settle in. It's a business trip, just like any other.
When this game was going to be potentially played in a blizzard, we saw the appeal to taking back a pile of points, especially with a run first team like the Browns, but now that the conditions are going to be perfect. We are leaning the other way.
After the move, this line re-opened at -7½, down from 8½ and part of the reason it dropped is because it's at a "neutral site". Have you ever seen Bills Mafia? You don't think thousands are heading to Detroit already for a ticket to see Sunday's games? The joint will be packed solid with Bills fans, as it's not that far a drive from Buffalo to Detroit. Furthermore, the track goes from muddy to fast and the Bills figure to be much better on a fast track than a muddy one while the Brownies prefer a sloppy track. If anything, this line should've went up and not down. Recommendation: Buffalo -7½
L.A. Rams +3 @ New Orleans
1:00 PM EST. There is a lot for the market to work with here when it comes to fading the Rams. First and foremost, the market pounded Los Angeles last Sunday against the Cardinals when it was announced that Kyler Murray would not suit up for Arizona. Well, you know how that went. Injury chasers don't learn. The Cards would win easily, 27-17, with journeyman Colt McCoy under center. When we hear that Vegas has a huge liability like it did with the Rams last Sunday and Vegas wins, we are mindful of the propensity in the market to zig-zag.
In addition to losing that game and dropping to 3-7, the Rams also lost their best player with WR Cooper Kupp undergoing surgery to repair his injured ankle. There is no timetable set for Kupp's return, but unless things turn around sharply for the Rams, dude isn't coming back this season. Why would he? Moreover, the Rams are down two starting offensive linemen, as T Alaric Jackson will miss the rest of the year with blood clots and G Chandler Brewer is out with a knee injury. All of this adds up to the Rams looking like a wounded animal that is begging to be put out of its misery.
We backed the Saints last week, and understand this might look like a zig-zag on our end, but that couldn't be further from the truth. We are in the business of gauging over and under-reactions week to week and the plight of the Rams and the influence their loss had on the market last Sunday far outweighs what frustration we may have had in ripping up our tickets in a much less wagered on game. Had the Saints been playing anyone else this weekend, we probably would have come right back on them, but the Rams' tanking stock and their negative market influence looms large. Before we go, let's check back in with the "experts" at ESPN.

Thanks for the confirmation, y'all. It's Rams or nothing here. Recommendation: L.A. Rams +3
Cincinnati -4 @ Pittsburgh
1:00 PM EST. We faded the Steelers last week, and we are coming right back to fade them here this week, as you may not find a more flag aided victory than their win over New Orleans last Sunday. The Steelers game winning touchdown drive was a flag fest that allowed them to march right down the field without issue. That 20-10 final was praised by Steelers legend Ben Roethlisberger, who gave rookie starter Kenny Pickett all the credit for leading his team to victory by spreading the ball around. Believe it or not, "Big Ben" didn't have much to say about the 10 penalties that were called on the Saints and the game deciding impact the stripes had on the outcome. Shocking.
We're not going to break down Kenny Pickett's pass chart, you can find that anywhere. Instead, we are going to focus on this line, which has the Steelers taking back better than a field goal. When the oddsmakers posted the line on the Steelers' game versus the Saints last week, they made the Saints a 2½-point favorite in Pittsburgh. The market took a stand and drove the Steelers to the chalk by kickoff. This week, the books opened with the Bengals as 4½-point road favorites. Does that not seem off to anyone else?
For some perspective, the Saints are the 25th ranked team by DVOA over at Football Outsiders. The Bengals are 10th. We understand that Cincinnati will be without star WR Ja'Marr Chase, but his absence is not a secret, as his hip injury caused him to miss the Bengals' last game, a 42-21 drubbing of Carolina in Week 9. The market has a short memory, and the Panthers are not highly regarded, so that dominant victory is carrying very little weight here.
Instead, the story is the first meeting between these two teams that saw the Steelers attack, Joe Burrow, to the tune of seven sacks and four interceptions. However, when you go beyond that talking point, and dig a little deeper, the case to be made for the Bengals becomes clear. Despite losing the turnover battle in that game 5-0, the Bengals dominated every aspect of the box score besides the final score, a 23-20 overtime win for the Steelers. Cincy had more first downs (32-to-13), dominated the time of possession (43:42-to-26:18) and the Bengals outgained Pittsburgh by 165 total yards. There might not be a more deceiving final score recorded this season. If the Steelers somehow keep pace this time, so be it, but the Bengals are being totally undersold here. Recommendation: Cincinnati -4
Kansas City -5 @ L.A. Chargers
8:20 PM EST. The influence of prime time games cannot be ignored here, as the Chargers are coming off a ticket cashing cover last Sunday night versus the 49ers. However, anyone that walked to the pay window in that game should be thanking their lucky stars, as Los Angeles was dominated by the 49ers everywhere but the scoreboard. Results are what have the greatest influence in the market, but it's worth noting that the Chargers were out everything'd by the 'Niners. L.A. had just 12 first downs, had the ball for just 23 minutes, and it was badly outgained by 149 yards. The Chargers now go from an 8½-point pooch v the now 5-4 49ers to a much smaller price here against the mighty Chiefs. That ain't right.
Before you bring up that this is a home game for the Chargers, might we remind you that there is no such thing as a "home" game for this team. Since moving from San Diego, the Chargers are like a ship without its crew. You can bring up every one of the games the Super Chargers have played in L.A. and you will not find one where the opposing team's fans don't outnumber the home team's backers. Often, it's not close. When you are watching the Chargers play in L.A. and you hear the roar of the crowd, you know the away team did something great. There will be more red in the stands on Sunday night than there will be powdered blue, and it won't be f**king close.
Even if we take into account the three points given for home field advantage, the Chargers would be priced in a similar range here against the Chiefs as they were the 49ers. Fair or unfair, we doubt many would line up K.C and S.F. and call them equals at this moment. The underlying numbers back that up, as the Chiefs are ranked 5th in total team DVOA over at Football Outsiders, while the 49ers are 11th. There is no shame sitting just outside the top-10, but 11th is not equal to a top-5 side. So now we must ask the question why aren't the Chiefs getting the respect from the market they should be.
Last week, K.C. beat up on the Jaguars, 27-17, but pounding on the Jags is like beating up your little brother. It doesn't count for much. It also isn't going to wash away the stain of the Chiefs Week 9 effort that saw them nearly lose to the Titans on Sunday Night Football as a double digit favorite. When we look back at that result, this line starts to make a little more sense. If we go back a little bit further, to Week 7, we can see that K.C. Molly whalloped the 49ers in Santa Clara, 44-23, as a 2½-point favorite. It's not fair to compare those games 1-to-1, but we aren't going to totally ignore that both the Chiefs and Chargers played the 49ers, at Levi's Stadium to much different results.
To close, the Chargers were a 4-point dog earlier this season in K.C. and now they are in a similar range here. That can't be. It's not often that we recommend spotting road points in a prime time division game, but there are exceptions to every rule. Recommendation: Kansas City -5
Our Pick
Leans & analysis Wk 11 0 (Risking 0 units - To Win: 0.00)