Detroit +136 over Chicago
Posted at 10:15 AM EST odds are subject to change.
Pinnacle +136 BET365 +135 SportsInteraction +134 888Sport +135
Detroit +136 over Chicago
1:00 PM EST. Gauging over and underreactions is key when trying to analyze these games, and so with that in mind, we'll take you to the front page of ESPN in the aftermath of Week 9: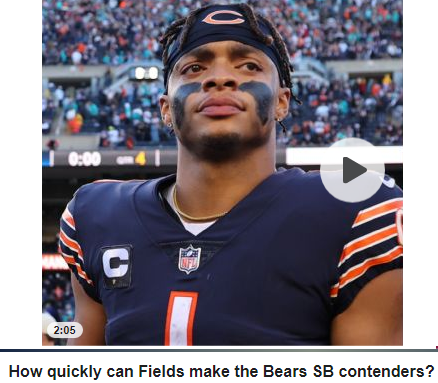 If that wasn't enough, here's a little more from the Worldwide Leader in its weekly over and underreactions column:
Life comes at you fast in the NFL, and it wasn't that long ago, that there were cat calls to throw the baby out with the bathwater and start over again in Chicago, as the new brass of GM Ryan Poles, and head coach Matt Eberflus, inherited Fields from the past regime. Hell, just two weeks ago after a 49-29 loss at Dallas, Fields was getting destroyed. FFS, the Bears didn't even win last week, but here we are. Fields has not been anointed as the one to lead Chicago to the promised land, but how soon he does it is the only debate. You know what's coming next.
Bless Justin Fields. We wish him the best and hope he has a long and prosperous career. However, anointing this dude getting "next" after one game is A LOT to ask. In fact, being mindful of not overreacting to just one game is one of our criteria when trying to find value. Despite that "big game," his "best game," Justin Fields is arguably the worst performing starting quarterback in this league. To back that up, we once again turn to our friends at Football Outsiders, who have a valuable statistic that measures how impactful a QB is to his team compared to a run of the mill pivot. It's called DYAR (Defense-adjusted Yards Above Replacement), and it's exactly as described. Any quarterback over the Mendoza line of 0 is better than an average replacement QB. Those teams whose starting quarterbacks are in the minus might be better served by someone else. Through nine weeks this season, Fields ranks 34th of the 34 quarterbacks that qualify with at least 135 passing attempts. Now, we can already hear the cat calls from the balcony, "Fields is a dual threat," they say. "You can judge him by his passing alone!". Fair, we'll give Fields' giddyup sticks their due. He's second, only behind Lamar Jackson in DYAR when it comes to quarterback rushing, with Josh Allen in third place. That's some pretty damn good company all things considered, right? Wrong. Both Jackson (9th) and Allen (4th) rank in the top-10 in passing DYAR at +440 and +559 yards respectively. Would you like to know what Justin Fields' DYAR is? -301. The Bears could find a better arm on any one of the practice rosters across the league.
Let's move to the Lions, who while coming off a win over the Packers but are not finding any traction in the market. That's because Green Bay stinks, too, and its stock is in the crapper. It also doesn't help that the Lions dropped five games before knocking off GB, bookending that run with a win over Washington way back in Week 2. Detroit won just three games a year ago and now, just nine weeks into this season, it is 2-6. It's a bad look for a team that had eyes on the playoffs. Dan Campbell was the star of HBO Hard Knocks. Dude is so intense and likable that we'd be willing to run through a wall for him if he asked, just like his players do.
Campbell is not going to want to hear this, but his team has been in so many games this year. The Lions lost to the undefeated Eagles by three, the Vikings by four, Seattle by three and Miami by four. We could easily be talking about a 6-2 team instead of one that is 2-6. To further that point, the Lions had double digit leads over the Vikes (Week 3) and Fish (Week 8). It's also worth noting the Lions still sport the 12th ranked offense over at Football Outsiders and Detroit City has played the second toughest schedule thus far. It starts to lighten up for the Lions with the Bears visiting this week, as they'll play a much more manageable future schedule that ranks 25th. For comparison's sake, the Bears offense is ranked 23rd and their defense just 31st. Tell us again why Chicago is the chalk here?
Our Pick
Detroit +136 (Risking 2 units - To Win: 2.72)