Colorado St +210 over New Mexico
Posted at 2:30 PM EST odds are subject to change.
Pinnacle +206 BET365 +210 SportsInteraction +200 888Sport +215
Colorado St +210 over New Mexico
The Pit, Albuquerque, NM
Streaming: CBS Sports Network (CBSSN)
9:00 PM EST. The New Mexico Lobos are 12-0. They're 9-0 at home and they're spotting what looks to be a beatable number against a Colorado State team that is just 8-5 overall, not to mention 5-8 Against the Spread (ATS). Incidentally, the Lobos are 8-2 ATS (or 7-3-1 depending on where you shop) which takes us back to one of our favorite angles of being "too late to the party or buying high".
If you bet on New Mexico today, you may win but the more likely scenario is you won't because the Lobos have been paying off like crazy while going undefeated. Friends, the Lobos are no longer under the radar. The time to bet New Mexico was 12 games ago, or 11 games ago or 10 or 9 or 8………but it is not now. New Mexico is on everyone's radar, which is the absolute best time to sell. The Lobos have played the 266th ranked non-conference Strength of Schedule in the country.
By contrast, the Rams have played the 127th ranked non-conference SOS in the country and they have played that much tougher schedule with injuries to key personnel, specifically, Isaiah Stevens who is a beast and who is back. The Rams are without question the Mountain West's most undervalued team. When healthy, like they are now, the Rams might be the best team in the Mountain West but if you were to look at the standings, you would see New Mexico in 1st and Colorado State in 8th out of 11 teams. The look isn't good for the underdog here but that's precisely the point.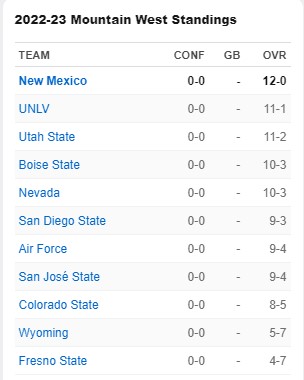 If your book allows futures, you could do a lot worse than betting Colorado State to win the Mountain West at 18-1. That's a massive overlay because they are as good as anyone in the conference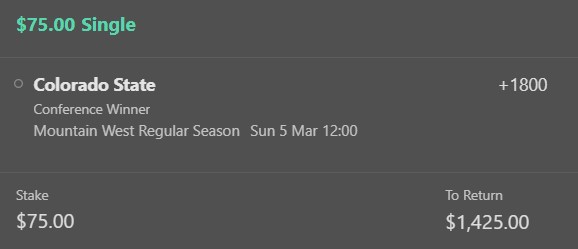 .
For this one game and perhaps beyond should the Rams fail to cover, we're getting behind CSU because they're very much on our radar as one of the most undervalued teams in the country right now while New Mexico is one of the most overrated. It's also worth noting that conference play (the real season) gets underway for both teams here so motivation and intensity will be high. Colorado State outright is the call.
Our Pick
Colorado St +210 (Risking 2 units - To Win: 4.20)