Cleveland +145 over Minnesota
Posted at 11:30 AM EST. Odds subject to change.
Pinnacle +145 BET365 +145 Sportsinteraction +135 888Sport +145
Cleveland +145 over Minnesota
1:10 PM EST. As we head into the final month of the season, there is usually one team that gets hot as a firecracker and makes the playoffs. The Guardians are six games back of the Twins in The AL Central and it wouldn't surprise us one bit if Cleveland caught them. You see, Minnesota has struck out more times than any team in baseball, which makes them risky and vulnerable while the Guardians have struck out the least amount of times, which makes them dangerous and worthy, especially when taking back a tag. The Twins won the opener of this series but Cleveland responded with a win yesterday to set up this rubber game. These two will also meet in Cleveland next week for a two-game set so Cleveland is not even close to being out of this thing. Furthermore, and we mentioned this yesterday too, Cleveland's offense is cashing in baserunners like it's supposed to when they put the ball in play so often. The Guardians have scored 40 runs in their past eight games.
Sonny Gray (RHP - MIN) has a 3.06 ERA after 26 starts and has looked the part of a rotation anchor above the surface but underneath his xERA is 3.77. That's still good but his xERA over his last three games is 4.14 so he's not as good as it appears. We also love that current Guardians have a combined .143 AB's against Gray and have a rock solid batting average of .280 against him. Over those 143 AB's, Gray has struck out a mere 25 Guardians while walking 14 of them. Gray's numbers against current Guardians are well below average.
Tanner Bibee (RHP - CLE) picked up the win last Friday, giving up two runs on six hits and a walk over six innings in a 5-2 victory over the Blue Jays. Bibee's introduction to the big leagues (in just his second pro season) has been impressive. Among the 88 pitchers with at least 100 innings, he ranks seventh with a 2.90 ERA and 19th with a 3.62 xERA. His ability to limit hard contact with an effective four-seamer/slider mix has yielded success thus far. Market perception is that the Twins can hit while the Guardians cannot. It's actually the other way around and as long as Minnesota is spotting significant prices or Cleveland is taking back significant prices, we'll play it accordingly.
Incidentally, you can get 15-1 for Cleveland to win the Division. With 32 games left, Cleveland is just 6 back and they do not have to leapfrog anyone. The Guardians are in second and at 15-1, you could do a helluva lot worse. They are worth a small wager.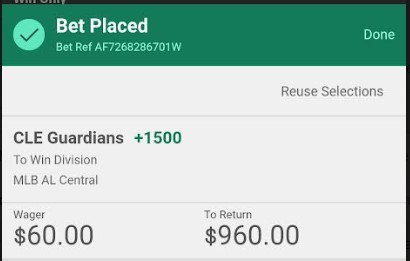 ----------------------------------------------------------------------------
Our Pick
Cleveland +145 (Risking 2 units - To Win: 2.90)