Edmonton +8½ -110 over Calgary
bet365 operates pursuant to an agreement with iGaming Ontario.
Posted at 2:00 PM EST and are subject to change.
Edmonton +8½ over Calgary
7:00 PM EST. The Elks have been solidly cast as the dregs of this league for 2022 after a 3-11 campaign last year and an 0-2 start this season. On the surface, Edmonton's games have not been close, as it lost Week 1 in B.C. 59-15 and Week 2 at home to Saskatchewan 26-16. It does not take a super genius to figure out where the Elks market standing is after back-to-back double-digit losses and an 0-2 mark against the spread. Edmonton is walking around with a huge target on its back. When one loses games by 44 and 10, respectively, it can be difficult to see the forest for the trees. How can the Elks possibly keep up with the mighty 2-0 Stampeders in Week 3?
Enter Nick Arbuckle, former understudy to Bo Levi Mitchell in Calgary and now in his first year as the starting pivot for the Elks. During the 2018 and 2019 seasons, Arbuckle performed admirably under Mitchell, going 4-3 in the games he started while throwing for 2247 yards, 12 touchdowns, and just five interceptions while wearing the red and white of the Stamps. Arbuckle spent the pandemic-shortened 2021 season in Toronto, starting seven games for the Argonauts, but he limped through a hamstring injury that bothered him from the onset of training camp. We're not going to sugarcoat Arbuckle's first two starts in Edmonton, but we also are not going to get too down on him either.
In Week 1, all that could go wrong did go wrong for Edmonton. Last week, the Elks played a much better game with Arbuckle leading the way with a 315-yard passing day. He outgunned Saskatchewan's Cody Fajardo and had the Elks set up for the win with a fourth-quarter lead with just seven minutes to go. The Roughriders would close the game out with 11 unanswered points, which would be enough to send their backers to the pay window and those that bet the Elks with their heads down shuffling for the exit.
We've read all the drama coming out of Edmonton and an 0-2 start does little to fan those flames, but the plight of the Elks is not news, just ask scumbag pick seller Jesse Schule: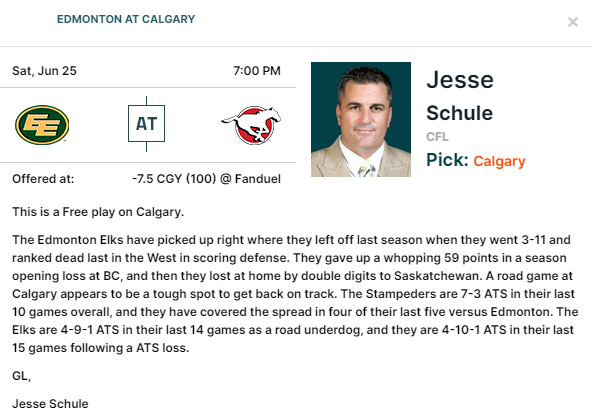 Easy winner, eh boys?
We've left little space for the Stampeders, but that is by design. The Stamps are a known commodity that the market trusts. At 2-0, it might look like the Stampeders are ready to take back their place as the class of the West, but we are still not buying in. Why? Well, for one, Calgary was down 24 to the 0-3 Tiger-cats. Calgary was lucky they didnt lose that one by 40. They also needed a fluke OT win over Montreal in Week 1. The Stamps are indeed 2-0 but they are not a 2-0 team. They could easily be 0-2 after two lucky OT wins.
The big story out of Stampeders camp this week is the status of Mitchell, as he re-injured his ankle in practice and is expected to be a game-time decision. We'd prefer Bo Levi got the nod over Jake Maier, but those decisions are not in our control All we can do is scoop up a pile of inflated points and let the chips fall where they may. We're going to trust that process, hold our noses, and root for the Elks to cover this inflated number.
Our Pick
Edmonton +8½ -110 (Risking 2.20 units - To Win: 2.00)